Hagia Sophia Guided Tours | A Walk Through the Mosaics & Marvels of Istanbul's Crown Jewel
Contents
Why Take a Hagia Sophia Guided Tour?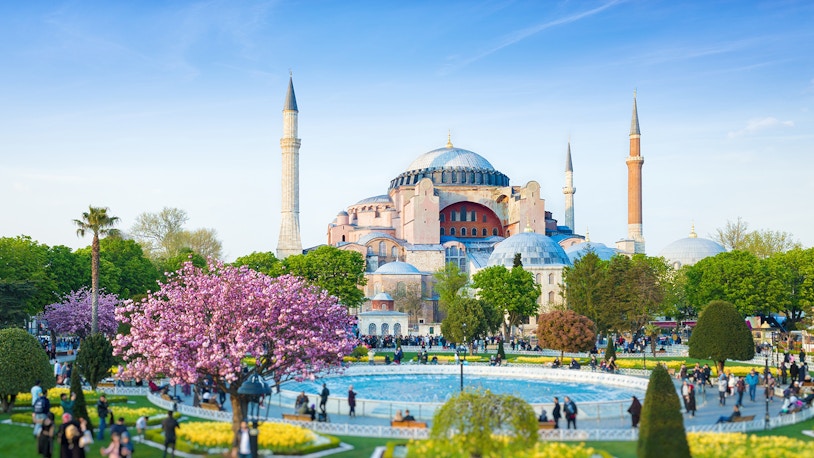 In-Depth Knowledge: A Hagia Sophia guided tour offers an opportunity to gain in-depth knowledge about the history, cultural significance, and architecture of the monument. Your tour guide will tell you about the local anecdotes and stories surrounding the attraction. 
Personalized Experience: A small guided tour can be tailored to the specific interests and preferences of the visitors, making for a more satisfying experience. An experienced tour guide can share insights and stories about Hagia Sophia's history, that may not be immediately apparent from simply wandering through the monument. 
Hidden Gems: Guided tours give you the opportunity to explore hidden artifacts and objects inside the Hagia Sophia. A tour guide will also take you through the complex historical objects inside the monument. 
Fast-Track Access: Guided tours also allow you to skip long lines and spend more time exploring the attraction. You also do not have to worry about missing any part of the attraction. 
Safety and Security: A guided tour provides an added level of security, especially for solo travelers or those who may need to become more familiar with the area. An experienced guide can help visitors navigate potential cultural differences or language barriers. 
Highlights Covered on Your Hagia Sophia Guided Tour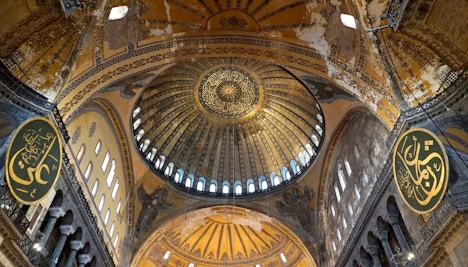 Main Dome
The central dome of Hagia Sophia was constructed around 537 AD and has since been built and rebuilt over the centuries to keep up with the city's different reigning dynasties. The dome stands 55 meters above the ground. The intricate designs, rich decorations, and series of smaller columns inside the dome reflect the impressive architecture of the Byzantine era.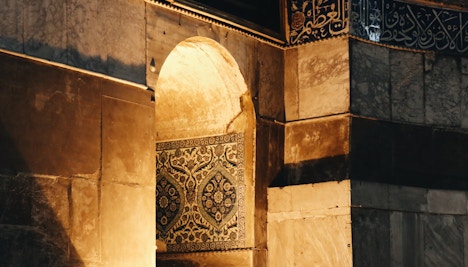 Weeping Column
Located at the entrance of the monument, the Weeping Column is a unique feature of the Hagia Sophia Mosque. The column is believed to have been made from porphyry and shipped from the Temple of Artemis in Ephesus. According to tradition, if someone touches the column and places their finger on a hole in it, all their ailments will be cured. 
Imperial Door
The Imperial Door of the Hagia Sophia Mosque offers stunning views of the interiors of the monument. The Imperial Door leads to a small chamber that was used by the monarchs to prepare for their processions. The room is decorated with intricate mosaics and carvings, that reflect the decadence of the Byzantine empire.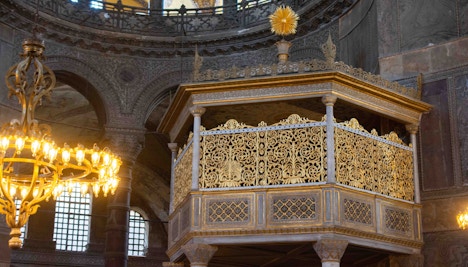 Sultan's Lodge
The Sultan's Lodge is located in the upper gallery on the western side of the building and was built during the 19th century. The lodge has been used by the Sultan and his entourage during his visits to the Hagia Sophia. The luxurious furnishings and decadent decorations showcase the rich taste of the Ottomans. You have to climb up the stairs to explore this room.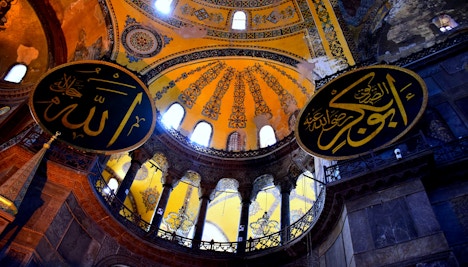 Intricate Calligraphy
The domes and walls of the Hagia Sophia are covered with beautiful calligraphy. When the Hagia Sophia Church was converted to the Hagia Sophia Mosque in the 15th century, these ornamentations were added. The verses feature words from the Quran, the names of Prophet Muhammad, and the first four Caliphs, naskh and muhaqqaq, and they are enhanced with floral patterns.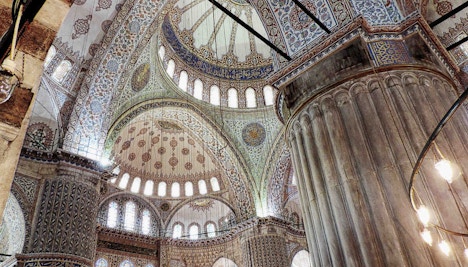 Mosaics and Marble Columns
The mosaics and marble columns in the Hagia Sophia are standing testaments to the glorious era of the Byzantine and Ottoman empires in Istanbul. Jesus, the Virgin Mary, Prophet Muhammad, and their six Caliphs together share space inside the Hagia Sophia. The columns support the grand dome and create a sense of spaciousness and grace inside the Hagia Sophia Mosque. 
Guided Tours Vs Non-Guided Tours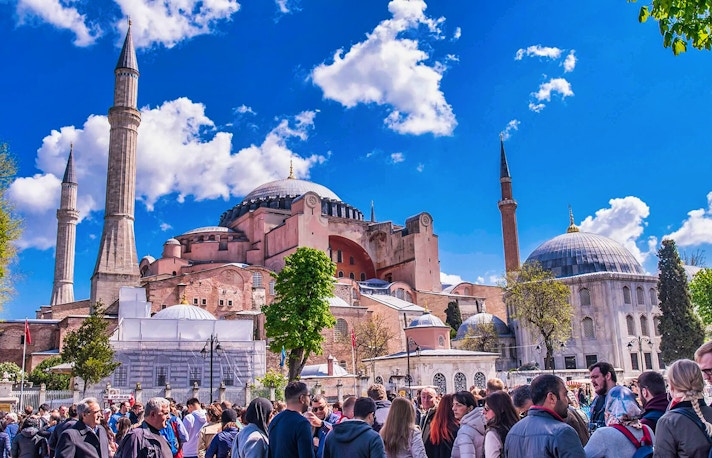 Guided Tours
Expertise: An experienced tour guide will take you through all the major highlights of an attraction and acquaint you with the history and cultural significance of those places. 
Convenience: You do not have to worry about cultural barriers or language problems, for your tour guide will take care of the transportation, tickets, and access to general areas. 
Time Management: A guided tour can help you make the most of your limited time at an attraction by providing a structured itinerary and ensuring that you do not miss any important highlights. 
Safety: It is best for solo travelers to book guided tours for you have fewer chances of getting lost or being misled in a tour group. You can also get advance warnings in case of steep stairs, uneven terrain, or restricted spots. 
Socialization: You can meet like-minded people, who also love traveling to the same kinds of places in these guided tours. Sharing your experience with others can also make for an enjoyable experience.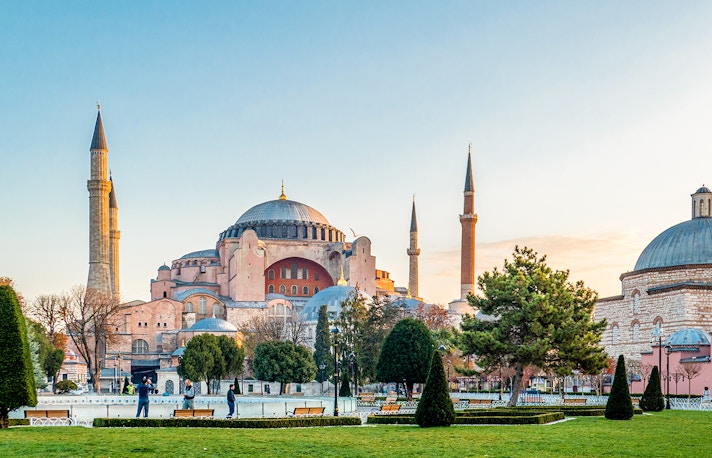 Non-Guided Tours
Flexibility: Without a guided tour, you can plan your own itinerary and cover all the highlights of your attraction. You can go at your own pace and spend more or less time on areas that interest you.
Independence: Exploring an attraction without a tour guide can feel rewarding as you will be responsible for researching and finding out more about the site. 
Cost-Effective: Guided tours are comparatively more expensive but well worth their money. You may save a few extra cents not booking guided tours, but you have to research and cover all the major attractions by yourself. 
Limited Social Interaction: Guided tours give you the opportunity to meet like-minded travelers, however, it may be too overwhelming for some folks, who prefer to spend time at attractions by themselves. If you go without tour guides, you may have limited social interaction. 
May Miss Attractions: You will have to research and find out about the history, cultural context, and stories behind an attraction by yourself, if you visit an attraction without a tour guide. Make sure you do your research well so as not to miss major attractions. 
Book Hagia Sophia Tickets
Frequently Asked Questions About the Hagia Sophia
Q. Can I book Hagia Sophia guided tours?
A. Yes, you can book Hagia Sophia guided tours to enjoy an informative visit to the attraction and learn deeply about its history and culture. 
Q. How do I book Hagia Sophia guided tours?
A. You can book Hagia Sophia guided tours online. It is best to book these tours online to avoid standing in long lines. Your seat is also reserved and you do not have to worry about missing the attraction. 
Q. How much do Hagia Sophia guided tours cost?
A. Historian-guided Hagia Sophia tours begin from €14.99. You can also upgrade them to include combo tickets to visit more attractions.
Q. What is included in a Hagia Sophia guided tour?
A. The Hagia Sophia guided tour includes a 1-hour tour of the attraction with an experienced English-speaking tour guide. 
Q. In what languages are the Hagia Sophia tours available?
A. The Hagia Sophia guided tour is only available in English. You can roam around the attraction for as long as you want after your 1-hour guided tour is over.
Q. Is the Hagia Sophia guided tour worth it?
A. The Hagia Sophia guided tour includes an English-speaking tour guide that takes you around the church-turned-mosque for an hour, sharing important historical facts and interesting anecdotes about the attraction. Anyone with an interest in history and architecture will love it.
Q. Does Hagia Sophia guided tours allow you to skip lines?
A. Those who book Hagia Sophia guided tours enjoy priority access to the attraction. You can avoid waiting in long lines and will be able to spend more time at the attraction.
Q. Can I cancel a Hagia Sophia guided tour?
A. Yes, you can cancel the Hagia Sophia guided tour tickets 24 hours before the experience begins and get a full refund on your purchase. 
Q. How long is the Hagia Sophia tour?
A. The Hagia Sophia guided tour lasts for an hour. However, you are free to explore the attraction on your own for as long as you want.